Project Search at VCU Health System

Project SEARCH involves the organizational collaboration of several community partners. These partners include; Richmond Public Schools, VCU Health System, the Virginia Department of Education, the Virginia Department of Rehabilitative Services, and VCU Rehabilitation Research and Training Center.In the spring, planning begins for the upcoming school year. At this time recruitment and marketing take place. Students with significant disabilities apply to the program and go through an interview process.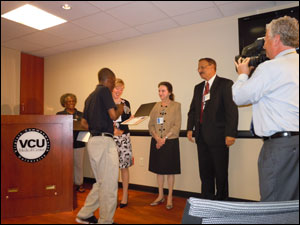 Typically, eight students who are high school seniors, begin the program with the start of the school year. The students spend the entire school year at the host hospital. Each student completes three 10-week internships with the ultimate goal of obtaining competitive employment, while learning new skills. The students are supported by the onsite public school teacher, provided by Richmond Public Schools, in job readiness skills and independent living skills.
The job coach, provided by VCU-RRTC, works closely with each student, providing training and intervention and workplace accommodations as needed. The rehabilitation counselor also stays closely involved all year to promote competitive employment.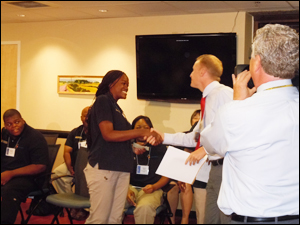 As of June 2011, twelve students had successfully completed the program. Of these students 83% have gained competitive employment because of their dedication to Project SEARCH and their willingness to acquire new skills.
VCU Health System has provided valuable resources and leadership to Project SEARCH including Maria Curran, Chief Human Resource Officer, Laurette Anderson-Gray, Executive Secretary/Administrative Assistant, as well as Deborah Slayden, Director of Workforce Development and Strategy at VCU Health System and the Business Liaison for Project SEARCH.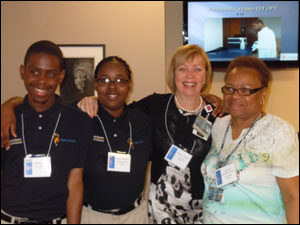 Recently, Deborah Slayden was named as the winner of the 2011 Human Resource Strategist of the Year Award. This award is given to recognize outstanding Human Resources professionals for strategic accomplishments within their organization. In large part, due to her visionary leadership, Project SEARCH at VCU Health System has been a great success. To learn more about Deborah Slayden and her recent appointment to the Virginia Business Leadership Network.