2008 VCU Webcast Series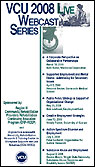 Register for the entire 6-webcast series listed below, or select individual webcasts from our entire listing of topics, including these titles below, on the Upcoming Webcasts page.
Webcast Series Schedule:
---

A Corporate Perspective on Collaborative Partnerships
Date:
3/18/2008
Time:
2:00 - 2:45pm ET
Presenter:
Beth Butler
Beth Butler is Wachovia's Disability & Accommodations Consultant. As an attorney who happens to have a disability, her passion goes far beyond simply advancing Wachovia's business and diversity strategies! Her work ties directly to Wachovia's corporate commitment to conduct business without barriers. In this webcast, participants will gain valuable information on why it is important to build partnerships with businesses in the community. In addition, the presenter will share examples and ideas on how rehabilitation professionals can build partnerships and what businesses expect from rehabilitation.
---

Supported Employment and Mental Illness: Addressing the Secondary Issues
Date:
4/8/2008
Time:
2:00 - 2:45pm ET
Presenter:
Deborah Becker
Supported employment is designed to assist individuals with disabilities who are interested in working, regardless of substance abuse, treatment non-adherence, symptoms, and homelessness. However, employment specialists often struggle with assisting individuals who have these challenges. This webcast will address these secondary issues of mental illness and give specific strategies for providers to use for assisting individuals in finding and keeping employment.
---

Public Policy Strategy in Support of Organizational Change
Date:
5/20/2008
Time:
2:00 - 2:45pm ET
Presenter:
Bob Lawhead
After a decade of rapid implementation and expansion throughout the United States, supported employment hit a plateau. However, concepts such as self-determination and individual budgets have recently re-invigorated supported employment.. The use of self-employment and other customized approaches also are serving to reinforce the promise of supported employment, which is that everyone has a place in the regular workforce. The focus of this session is on realizing a future characterized by state and federal-level commitment to supported employment. Included will be strategies to impact public policy, including an understanding of adequate funding and funding mechanisms for employment services and supports.
---

Creative Employment Strategies
Date:
6/10/2008
Time:
2:00 - 2:45pm ET
Presenter:
Wendy Parent
The purpose of this presentation is to explore customized and supported employment strategies that have been successfully used by individuals with significant disabilities to become competitively employed. Emphasis will be placed on looking beyond typical service delivery practices to include generic, disability, natural supports and funding resources. Case study examples illustrating the process of customizing jobs and supports and the outcomes that can be achieved will be highlighted. Practical strategies for establishing individualized employment teams, implementing customized employment, accessing nontraditional resources, and addressing local service delivery issues will be presented.
---

Substance Abuse and Employment
Date:
9/9/2008
Time:
2:00 - 2:45pm ET
Presenter:
Dennis Moore
Substance abuse is an on-going challenge in the American workforce and widely impacts employability, productivity, and benefits availability. This webcast will address key issues related to substance abuse and employment with a particular focus on how this issue impacts disability services such as vocational rehabilitation. Definitions of substance abuse and how substance use disorder qualifies as a disability will be covered. This will be followed by an overview of the prevalence of substance use disorders related to the workplace and vocational rehabilitation programs. Key policy and practice issues will be identified, and promising and effective practices for addressing substance use disorders will be reviewed.
---

Autism Spectrum Disorder & Employment
Date:
7/8/2009
Time:
2:00 - 2:45pm ET
Presenter:
Peter Gerhardt
(Original Air Date 7-8-2008)> Today, families and learners with Autism Spectrum Disorder (ASD) are beginning to redefine the outcomes of the transition process beyond the production side of employment to include measures of social competence and involvement as well as life satisfaction. To this end, this presentation will provide an overview and practical suggestions for supporting learners with ASD to be competent, productive, and socially included coworkers and colleagues. This includes issues related to effective communication, understanding social challenges and the hidden curriculum, behavior support, production competence and interdependence.