New Website for Students with Disabilities Interested in College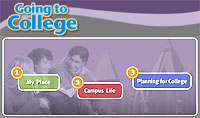 This new website contains information about living college life with a disability. It is designed for high school students. The site provides video clips, activities, and resources that can help them get a head start in planning for college. Video interviews with college students with disabilities offer a way to hear firsthand from students with disabilities who have been successful. Modules include activities that will help students explore more about themselves, learn what to expect from college, and equip them with important considerations and tasks to complete when planning for college. Visit this new website
Going to College is funded by a grant with the U.S. Department of Education, Office of Special Education and Rehabilitative Services (# H324M030099A)
---
Upcoming HVRP Free Webcast!

Involving Business in your Program
Date: 3/12/2009
Time: 2:00 - 2:45pm ET
Presenter: Howard Green

This webcast will discuss the importance of utilizing business in your programs as well as how to start working together as partners. Many organizations think if they had a business advisory committee then all their business development needs would be solved. This webcast will provide information regarding why it is important to listen and involve business but also share practical ways to utilize business involvement. Register Online for this Free webcast
HVRP (Homeless Veterans Reintegration Project) Technical Assistance Center is funded by grant #HV-16488-07-75-5-51with the US DOL.
---
PEATC Complimentary Webcasts Series

PEATC in partnership with VCU-RRTC is presenting six transition focused webcasts funded by a grant from the U.S. Department of Education. Career options for youth with disabilities and other aspects of preparing for life after high school are the topics. For a complete listing and to register please visit www.peatc.org. The full series is free but you must be registered to access.
PEATC Webcast Series Schedule:
3/2/2009 - From Segregated to Customized: The Shift to Personalized Employment -Laura Owens, E.D., APSE
3/16/2009 - In Support of Supported Decision Making - Lisa Morgan, E.D., Icon Community Services
4/6/2009 Assistive Technology & Transition: Evaluation, Identification, & Acquisition - Joey Wallace, Ph.D., NewWell Foundation

4/20/2009 - Opportunities Offered through Career Tech Ed - Domenic Giandomenico, Institute for a Competitive Workforce, US Chamber of Commerce
5/4/2009 -Transition and the Arts: Tapping into Creative Opportunities - Betty Siegal, JFK Center for Performing Arts

5/18/2009 Student Voice: The Transition to College - Liz Getzle, VCU and students
This series is funded by PEATC in partnership with RSA and VCU.
START-UP/USA Self-Employment Fact Sheet
Self-Employment Q and A: Information on Entrepreneurship for Youth with Disabilities
A 2005 poll from Junior Achievement found that 69% of teen-aged youth want to become entrepreneurs. This is not a surprising finding, since the "American Dream" often has been equated to owning a business. In 2003, the U.S. Dept of Labor's Office of Disability Employment Policy (ODEP) and the U.S. Small Business Administration (SBA) joined forces to find ways to improve small business opportunities for individuals with disabilities. One result of this effort was the publication, Road to Self-Sufficiency: A Guide to Entrepreneurship for Youth with Disabilities, which was developed by the National Collaborative on Workforce and Disability for Youth (NCWD/Youth), a technical assistance center funded by ODEP. Read the Fact Sheet
Start-Up-USA is funded by cooperative agreement # E-9-4-6-0111 from the U.S. DOL-ODEP.
---
Register Now for the Upcoming Webcourses
Supported Employment Web-based Certificate Series
(April 6 - July 9, 2009) - Find out More and Register Online
Supported Competitive Employment for Individuals with Mental Illness - (April 6 - July 9, 2009) - Find out More and Register Online
Customized Employment - (April 20 - May 18, 2009) - Find out More and Register Online

VCU-RRTC is funded by grant #H133B040011 with the US DOE - NIDRR.
---
New Book Available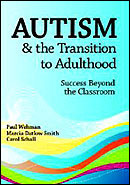 Autism and the Transition to Adulthood - Success Beyond the Classroom
By Paul Wehman, PhD, Marcia Datlow Smith, PhD, & Carol Schall, PhD
Autism diagnoses in young children increased dramatically in the 1990s—and now those children are young adults on the verge of a challenging transition to the real world. Every school and program will be ready to help with this groundbreaking practical guide, straight from the author of the acclaimed bestseller Life Beyond the Classroom and two community-based autism experts.
Professionals who work with young adults will get hard-to-find information on how specific social, behavioral, and cognitive characteristics of people with autism affect the transition to adulthood, exploring potential challenges and traits that can be powerful assets. Then they'll get a complete guide that walks them through every aspect of transition planning, including planning for employment and postsecondary education
Learn more about this book and how to order from Brookes Publishing