Register for Our Upcoming Webcourse....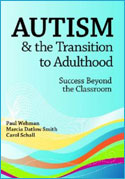 Into Adulthood: Transition to Work for Individuals with Autism - Feb 27 - Apr 10, 2012

More than ever, individuals with autism spectrum disorders are participating in the mainstream of school, work, and the community. Careful transition planning from secondary education is critical for young people with autism spectrum disorders to be successful; however, there is limited information on this topic.
This course will provide the participant with an in-depth understanding of the concepts related to positive transition planning for youth with autism. The issues, challenges, and strategies that are involved with helping young people with autism participate to the fullest degree in society will be examined.
The course will cover these important topics on autism and transition to work and more:
Characteristics of autism


Impact of transition from school to adulthood


Supporting parents


Positive behavior support


Inclusion


Critical life and social skills for work


Strategies for effective transition from school to work, training, or post-secondary education


Building effective business partnerships between academic and community service providers


Evidence-based strategies for effective job development, on-the-job support, and retention strategies
Cost: $275*, Textbook: $23.07, Total: $298.07. Find out more & Register

*If paying by purchase order, but you do not have the PO#, you may still register by keying in PO# 0000.