Upcoming HVRP Free Webcast!

Involving Business in your Program
Date: 3/12/2009
Time: 2:00 - 2:45pm ET
Presenter: Howard Green

This webcast will discuss the importance of utilizing business in your programs as well as how to start working together as partners. Many organizations think if they had a business advisory committee then all their business development needs would be solved. This webcast will provide information regarding why it is important to listen and involve business but also share practical ways to utilize business involvement.
Register Online for this Free webcast
HVRP (Homeless Veterans Reintegration Project) Technical Assistance Center is funded by grant #HV-16488-07-75-5-51with the US DOL.
---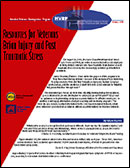 HVRP Factsheet #5: Resources for Veterans with Brian Injury and Post Traumatic Stress

On Aug. 20, 2008, the Labor Department launched America's Heroes at Work, an online resource that will assist employers in hiring military veterans who have traumatic brain injuries or posttraumatic stress disorder, two increasingly common post-battlefield conditions.
Labor Secretary Elaine L. Chao stated the purpose of the program is to "help these transitioning veterans succeed in the workplace" by establishing "a comprehensive Web site" that "educates employers, human resources professionals, and the workforce system" in how to assist veterans to "return to full, productive lives through work."
HVRP (Homeless Veterans Reintegration Project) Technical Assistance Center is funded by grant #HV-16488-07-75-5-51with the US DOL.
---
START-UP/USA Self-Employment Fact Sheet
Self-Employment Q and A: Selecting a Business Structure
Selecting a business structure is an important step when starting a small business. The type of structure selected can impact an individual's personal liability as well as the amount of taxes and when they are paid. Making the wrong decisions can result in personal debt, liability, and loss of public benefits.
Therefore, it is important to take the time to learn about each of the possible business structures in order to select the one that best fits the potential business. This Q and A provides an overview and is intended as a general introduction only. An individual who is considering business ownership should consult with a Certified Public Accountant (CPA) or a lawyer for more detailed information and advice. Read the Fact Sheet
Start-Up-USA is funded by cooperative agreement # E-9-4-6-0111 from the U.S. DOL-ODEP.
---
PEATC Complimentary Webcasts Series

PEATC in partnership with VCU-RRTC is presenting six transition focused webcasts funded by a grant from the U.S. Department of Education. Career options for youth with disabilities and other aspects of preparing for life after high school are the topics. For a complete listing and to register please visit www.peatc.org. The full series is free but you must be registered to access.
This series is funded by PEATC in partnership with RSA and VCU.
START-UP/USA 2009 Webcast Series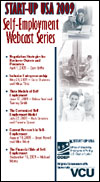 Announcing the 2009 Self-Employment Webcast Series!
Don't miss this opportunity to receive 6 presentations and earn CRCs on the following current topics: (All webcasts begin at 2:00 pm ET)
* Scholarships available to individuals with disabilities who are thinking about starting a business.

Find out More and Register Online | Print Brochure (PDF)
Negotiation Strategies for Business Owners & Promoters
Date: April 1, 2009 | Presenter: Cary Griffin

Inclusive Entrepreneurship
Date: May 20, 2009 | Presenters: Gary Shaheen, Mirza Tihic

Three Models of Self-employment
Date: June 17, 2009 | Presenters: Debra Noel, Tammy Smith

The Customized Self-Employment Model
Date: July 22, 2009 | Presenters: Rich Sanders, Pam Sprout

Current Research in Self-Employment
Date: August 19, 2009 | Presenters: Grant Revell, Mike West

The Financial Side of Self-Employment
Date: September 16, 2009 | Presenter: Michael Morris
Start-Up-USA is funded by cooperative agreement # E-9-4-6-0111 from the U.S. DOL-ODEP.
---
Journal of Vocational Rehabilitation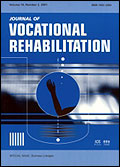 Volume 29, Number 3 / 2008
Social Capital
The Journal of Vocational Rehabilitation has offered free access to full text articles in the Vol 29, No. 3/ 2008 edition on Social Capital. This special edition of the JVR is an examination of the concept of social capital from the perspectives of human service providers from around the United States and Canada.
Read the full text articles in this JVR edition *
* If you join APSE, you can receive electronic access to full articles of all JVR issues...current and past issues.
---
Register Now for the Upcoming Webcourses
Supported Employment Web-based Certificate Series
(April 6 - July 9, 2009) - Find out More and Register Online
Supported Competitive Employment for Individuals with Mental Illness - (April 6 - July 9, 2009) - Find out More and Register Online
Announcing a New RRTC Webcourse!
Customized Employment - (April 20 - May 18, 2009)
This 4 week course covers the important topics in customized employment. Customized employment is a process for individualizing the employment relationship between a job seeker and an employer in ways that meet the needs of both. It is based on a match between the unique strengths, needs, and interests of the job candidate with a disability, and the identified business needs of the employer or self-employment.
Find out More and Register Online

VCU-RRTC is funded by grant #H133B040011 with the US DOE - NIDRR.