PROJECT SEARCH
Students with Autism Learn Work Skills
High school senior Ann Marie Chevalier quickly folds baby blankets in the mother-infant unit at St. Mary's Hospital -- and then moves on to her next task. Downstairs in the hospital basement Ben Woolf and Adonis (A.J.) Bullock Jr., also students at Henrico County high schools, assemble and stack plastic tables as one of their work assignments for the day.
Chevalier, Woolf and Bullock all have an autism spectrum disorder, a developmental disability that shows up as difficulties with communication, social interaction and behavior. The students and three others are spending their last year of high school working at St. Mary's as part of a Virginia Commonwealth University research project looking at work-training models for young people with autism.
Read the Richmond Times-Dispatch Article & View the Slideshow
---
Upcoming HVRP Free Webcast
Using Military Benefits to Prevent Homelessness in Women Veterans and their Families - By Amy Davis, VCU

Date: April 15 | Time: 2:00 pm ET
This webcast will discuss multiple issues surrounding homeless women Veterans and their families. Women who have served in the military are up to four times as likely to become homeless than women who have not served in the Armed Forces. This webcast will address employment barriers, legal issues, unique health issues, services available to women Veterans, and benefit programs. The presenter, Amy Davis with VCU-RRTC, will share her experiences in working with women Veterans and provide examples of how homeless women Veterans can embark on their own journey to success.
Register Online for the entire HVRP webcast series
HVRP (Homeless Veterans Reintegration Project) Technical Assistance Center is funded by grant #HV-16488-07-75-5-51with the US DOL.
---
Project Empowerment Webcast
Perceptions of Psychiatric Services Held by African American Males: Implications for Service Providers and Researchers

Date: Apr 14 | Time: 2:00 - 3:00 pm ET

Presenters: Mark Richardson, M.Ed., Ph.D. Candidate, VCU; Kelli Willams Gary, Ph.D., MPH, OTR/L, VCU;
Aisha Shamburger, M.S., CRC, Ph.D. Student, VCU
Research indicates that minority populations are underserved in the U.S. mental health care system. This disparity has been associated with limited English proficiency, remote geographic settings of mental health providers, stigma, fragmented services, comorbidity of mental illness and chronic diseases, high cost of services and cultural misunderstandings of mental health disorders and services. Although African Americans have a lower prevalence rate of mental health disorders than their white counterparts, they have a longer duration of illness compared to any other racial/ethnic group (Kessler et al., 2005; Williams et al., 2006; Primm et al., 2010). In addition, African Americans are also less likely to receive accurate diagnoses or treatment and more likely to be involuntarily admitted to public mental hospitals (NAMI, 2010).
We feel that this phenomenon may be caused by something larger than the obvious geographic location of mental health providers, cost of services or stigma. Therefore, the purpose of this webcast will be to discuss the perception of mental health services held by African American males who are (a) currently receiving mental health care services, (b) have been diagnosed with a mental disorder but have not gained access to mental health care services and (c) are at a greater risk of developing a mental illness due to traumatic events, high stress and or condition of life (poverty, drug abuse, incarceration, education, etc).

Find out More & Register Online
START-UP/USA Self-Employment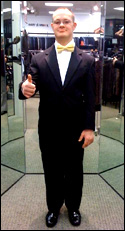 Joe's Story As Told by His Parents

Joe was in school when his parents, Ray and Janet, first began to imagine a different future for him than what is traditionally offered to students with significant disabilities. They attended a transition meeting and asked if the school could assist them in designing a plan for Joe that focused on self-employment.
Read about Poppin Joe's Kettle Korn
Start-Up-USA is funded by cooperative agreement # E-9-4-6-0111 from the U.S. DOL-ODEP.
---
2010 Online Courses - New Sessions Starting
Overview of Self-Employment for Entrepreneurs with Disabilities (4/19 - 5/24)
Self-employment is increasingly recognized as a viable employment option for people with disabilities. Self employment for individuals with disabilities involves minimizing the fears of the prospective business owner, as well as the rehab & local small business development professionals who assist them. A person does not need to"get ready" to own a business, if a customized approach is used.
Customized Employment (4/19 - 5/24)
This course covers the important topics in customized employment. Customized employment is a process for individualizing the employment relationship between a job seeker and an employer in ways that meet the needs of both. It is based on a match between the unique strengths, needs, and interests of the job candidate with a disability, and the identified business needs of the employer or self-employment.
Find out More & Register Online
VCU-RRTC is funded by grant #H133B040011 with the US DOE - NIDRR.
---
Assets for Independence (AFI) Fact Sheet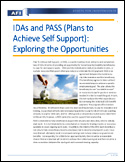 What Exactly is a PASS?
Plan To Achieve Self-Support, or PASS, is a work incentive most similar to and complementary of IDAs in terms of providing an opportunity for Social Security Disability beneficiaries to save for and acquire assets. PASS permits individuals to deduct countable income, or exclude resources that would otherwise reduce or eliminate the SSI payment. PASS is an agreement between the Social Security Administration and the beneficiary. The beneficiary agrees to take outlined incremental steps to achieve a specific employment goal. The plan allows the beneficiary to use "countable income" or resources to pay for goods or services needed in order to reach the goal. In turn, the SS A replaces the PASS expenditures by increasing the individual's SSI benefit payment.Read the IDA Fact Sheet
The Lewin Group & VCU are key collaborators in the Office of Community Services' initiative to increase IDA participation for people with disabilities
VCU-RRTC is funded by grant #H133B040011 with the US DOE - NIDRR.
---
Upcoming PEATC NEXT STEPS Webcasts

Bringing together all the elements needed for a successful transition for a youth with a disability can be a monumental effort. The Parent Educational Advocacy Training Center (PEATC) in collaboration with VCU-RRTC is offering a webcast series for parents, students with disabilities, and the professionals who work with them.
Apr 5: Guardianship – Rights, Risks, & Responsibilities
Apr 19: Parents As Essential Partners in Transition
May 3: The New Ticket To Work Program - What's in it for Young People
May 17: Universal Design for Learning-a Pathway for Lifelong Learning
This series is funded by PEATC in partnership with VCU.