Upcoming VCU-CRP-RCEP Webcast
Supported Employment and Mental Illness: Addressing the Secondary Issues

Date:4/08/2008
Time: 2:00 - 2:45pm ET
Presenter: Deborah Becker

Supported employment is designed to assist individuals with disabilities who are interested in working, regardless of substance abuse, treatment non-adherence, symptoms, and homelessness. However, employment specialists often struggle with assisting individuals who have these challenges.

This webcast will address these secondary issues of mental illness and give specific strategies for providers to use for assisting individuals in finding and keeping employment.

For More Information about this Series and Pricing options visit CRP-RCEP III (Earn CRCs/CEUs)

This activity is funded by grant (RRTC) #H133B040011 with the US DOE - NIDRR and by grant (CRP-RCEP) #H264B050007 with the US DOE - RSA.
---
Journal of Vocational Rehabilitation Article
Public/private partnerships and employment of people with disabilities: Preliminary evidence from a pilot project
While many people with disabilities and employment service organizations struggle to find jobs and develop strong relationships with businesses, supplemental staffing companies are becoming an important resource for linking qualified applicants with disabilities to competitive employment careers. Yet, there exists a huge disconnect between supplemental staffing companies recruiting qualified applicants to fill client-employer work orders, people with disabilities who are seeking employment, professionals with state rehabilitation agencies and community rehabilitation programs (CRP's) who assist them with their job searches.
This article reports on two public/private demonstration projects in Virginia, primarily serving individuals with developmental disabilities. One demonstration project was conducted in an urban setting working exclusively with MANPOWER with the second demonstration site occurring in a rural area with Kelly Services and MANPOWER. The two demonstrations give promise for a public/private collaboration that could increase the employment of people with disabilities.
Homeless Veterans Reintegration Program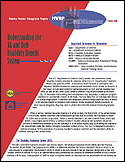 Understanding the VA and DoD Disability Benefit System
The U.S. Department of Defense (DoD) awards and administers some disability benefits provided to veterans, while the U.S. Department of Veterans Affairs (VA) governs others. A successful return-to-work or community reintegration initiative focused on veterans with disabilities must include an analysis of the impact of paid employment or self-employment on DoD and VA disability benefits, as well as any other public benefits veterans may receive based upon disability. To the extent that earnings from employment may jeopardize a veteran's program eligibility or cash benefit amount, it will make it far less likely that an individual will choose to pursue employment. If veterans with disabilities perceive employment as risky, in terms of its adverse impact on essential cash benefits, rental assistance, health insurance, or other special programs, they may elect to protect their benefits instead of pursuing employment. Read the Fact Sheet
HVRP (Homeless Veterans Reintegration Project) Technical Assistance Center is funded by grant #HV-16488-07-75-5-51with the US DOL.
---
Upcoming Self-Employment Webcast
Medicaid Waivers: A Tool for Self-Employment

Date: 4/16/2008
Time: 2:00 - 2:45pm ET
Presenter: Molly Sullivan
A critical step in the business planning process is identifying the support services that business owners will need to assure success in implementing and maintaining their businesses. For people who are enrolled in and using the services provided through a Medicaid Home and Community Based Services Waiver, there are unique opportunities for funding some of the disability specific support services.
This live webcast will provide some examples of how waivers can and cannot be used in supporting a business owner with a disability. Tips for how to incorporate waiver services in the business resource plan will be provided as well as tips on how to learn more about the specific waiver programs in each participant's state.
Register for this Webcast or the Entire Series
Start-Up-USA is funded by cooperative agreement # E-9-4-6-0111 from the U.S. DOL-ODEP.