4/11 Webcast: Providing Employment Supports for Individuals with Psychiatric Disabilities
Dates/Times: 4/11/2006, 2:00pm ET
Title: Providing Employment Supports for Individuals with Psychiatric Disabilities
Presenter: Deborah R. Becker M.Ed., CRC, Dartmouth Medical School
The President's New Freedom Commission on Mental Health endorses evidence-based supported employment as a way to assist people with serious mental illness lead productive work lives. This presentation will focus on individualized job supports and ways to develop the employer relationship.
Deborah Becker, M.ED, CRC, is Assistant Professor of Community and Family Medicine and of Psychiatry, Dartmouth Medical School. She is a rehabilitation specialist and is the senior project director at the New Hampshire-Dartmouth Psychiatric Research Center. Register for the 4/11 Webcast
The APSE - JVR Connection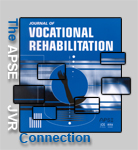 APSE: The Network on Employment is a membership organization formed to improve and expand integrated employment opportunities, services, and outcomes for persons experiencing disabilities. As a benefit of APSE membership, members can log onto the APSE website and access JVR issues electronically. Archives of previous issues are also available to APSE members with a few clicks of the mouse!
To find out more about the JVR access and other benefits of being an APSE member, please visit the ASPE website, http://www.apse.org/.
DISABILITYINFO.GOV
DisabilityInfo.gov (www.disabilityinfo.gov) is a one-stop federal web site designed to offer people with disabilities and many others access to the information and resources they need to live full and independent lives in the workplace and in their communities. Managed by the U.S. Department of Labor's Office of Disability Employment Policy (ODEP) (www.dol.gov/odep), DisabilityInfo.gov offers a broad range of valuable information, not only for people with disabilities, but also their family members, service providers, employers and many others.
New Product: DVD- 2004 Webcast Series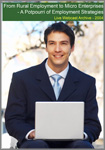 From Rural Employment to Micro Enterprises - A Potpourri of Employment Strategies
This DVD contains an assortment of 6 webcasts with national speakers on a range of topics related to employment strategies for individuals with disabilities. Each webcast includes a 45 minute lecture, PowerPoint presentation, handouts, and other resources.
This DVD is a great tool for introducing staff and new hires to the following topics: Organizational Strategies to Impact Employment; Fading Job Place Supports; Using Work Incentives to Fund Micro Enterprises; Employment in a Rural Community; Funding Organization Change; & Positive Behavior Supports. This product was developed by T-TAP, funded by a cooperative agreement from the U.S. Department of Labor, Office of Disability Employment Policy (# E 9-4-2-01217).
Price: $74.99. Order the DVD 2004 Webcast Series

5/9 Webcast: Funding the Transition to Meaningful Adult Roles
Dates/Times: 5/9/2006, 2:00pm ET
Title: Funding the Transition to Meaningful Adult Roles
Presenter: Joe Henn, MBA
This presentation covers the financial planning including budgeting and funding strategies that allows a person with a severe disability to live a full, integrated life in the community. In so doing, the person can continue to be eligible for the benefit streams to which he/she is entitled, while working full time with benefits and living independently.
Joe Henn's daughter, Nancy, has autism. At age 19, Nancy's profile for possible employment was: IQ: < 20, non-verbal, severe behavior problems, functioning level - bottom 10% of individuals with autism. At age 31, Nancy's life consists of : working 40 hours per week at union scale with benefits, owns her own car, goes on vacations, lives with 3 other women, and pays taxes.
Joe can tell you how this happened for his daughter and how others can do it too! Register for the 5/9 Webcast