Project Search Update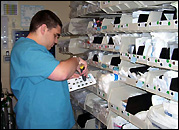 The first year of the Autism DRRP Project SEARCH class is coming to a close. This year six students participated in Project SEARCH at Bon Secours Richmond Health System – St. Mary's Hospital. Students each rotated through three 10 week internships. Some of the sites included: Cardiac Care, Intensive Care, Radiology, Engineering, Pediatrics, Mother and Infant, Central Sterile and Dietary and Nutrition. The students have each made great strides in learning valuable social and vocational skills as a part of their year in the hospital. A celebration to acknowledge their accomplishments and to thank the hospital staff will be held on June 14, 2010. Learn more about this program
VCU ASD Career Links is funded by DRRP grant #H133B080027 with NIDRR.
---
Supported Employment Webcast

Impact of Follow-Along Support on Job Tenure in Evidence-Based Supported Employment

Date: June 17th | Time: 2:00 pm ET
Presenter: Gary Bond, Ph.D., Professor of Psychiatry Dartmouth Psychiatric Research Center Dartmouth Medical School
The Individual Placement and Support (IPS) is an evidence-based model of supported employment for individuals with severe mental illness. However, little is known about the nature and intensity of follow-along support in IPS programs or how IPS helps clients become steady workers over the long term. This webcast summarizes the findings for a two-year follow-up study of follow-along support and employment outcomes for 142 IPS clients.
VCU-RRTC is funded by grant #H133B040011 with the US DOE - NIDRR.
---
JVR Article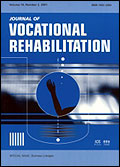 Employment and adults with autism spectrum disorders: Challenges and strategies for success

by Dawn Hendricks
Individuals with autism spectrum disorder (ASD) have the ability and desire to work, but there are still several obstructions. Research overwhelmingly demonstrates disappointing employment outcomes for this group. The vast majority is unemployed and for those who do have gainful employment, underemployment is common. The increased prevalence of ASD coupled with unique social, communication, and behavioral characteristics translate into the need for services to help them achieve employment success. Consideration of individual characteristics including strengths, needs, as well as specific interests, coupled with implementation of proper supports can result in successful and ongoing employment. This paper provides a review of evidence based research related to employment for individuals with ASD.
The Journal of Vocational Rehabilitation is published by IOS Press
---
HVRP Factsheet #10: Customized Job Development for Homeless Veterans with Disabilities
The more significant an individual's disability, and the more complex a person's life, the more robust any job development effort must be. Most homeless veteran's circumstances certainly pose complex barriers to employment, so traditional competitive approaches often prove ineffective. A customized method that circumvents traditional job search steps is needed. Customized Employment (CE) is not a service model or program, rather it is a process that builds on, short-circuits, or leverages other means of getting work. In short, CE methods minimize the use of comparative strategies that so often prove the undoing of traditional job development efforts. Read More
HVRP (Homeless Veterans Reintegration Project) Technical Assistance Center is funded by grant #HV-16488-07-75-5-51with the US DOL.
Employer Practices Case Study
Organizational Factors at Cascade Engineering that Facilitate Successful Job Retention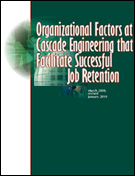 Fred Keller, the CEO of Cascade, founded the organization in 1974 on the premise that it is possible to run a business that cares about people and still make money, and that people who are treated with dignity and respect are more productive.
"We believe that an effective organizational culture is one in which
the employees know they are valued and respected as human beings and are invited to contribute their talents and skills in meaningful ways to the success of an organization, and that creating such a culture is the foundation of a sustainable future".

The CEO, described as "having a heart for people", does not
operate by mandates, but through informal power and employee
loyalty.
The company's goal is to achieve a sustainable "Triple Bottom Line" of financial, social and environmental outcomes, and achievements are measured in each area to chart progress toward becoming a sustainable business. Read more about Cascade Engineering's Successful Job Retention
VCU-RRTC is funded by grant #H133B040011 with the US DOE - NIDRR.
---
VCU-RRTC Online Courses
Ethical Issues and Decision Making for Rehabilitation Professionals 6/14/10 - 7/26/10 (Earn 10 CRCs in Ethics)

Overview of Self-Employment for Entrepreneurs with Disabilities 7/26/10 - 8/30/10

Supported Employment Web-based Certificate Series (ACRE-certified) 8/16/10 - 11/15/10

Supported Competitive Employment for Individuals with Mental Illness (ACRE-certified) 8/16/10 - 11/15/10

Find out more & Register online

VCU-RRTC is funded by grant #H133B040011 with the US DOE - NIDRR.
---
Assets for Independence (AFI)
One-Stop Career Centers
One-Stop Career Centers, established as part of the 1998 Workforce Investment Act, are the foundation for the delivery of employment services in a local area. They offer a comprehensive range of workforce development services to job seekers and employers in a single "one stop" location. They are required by law to be universally accessible. A wide array of services are available through the centers, including training, job referrals, technical assistance, education assistance, workshops, career counseling, job listings, access to unemployment insurance and assistance with living expenses while in training, transportation and other employment-related supports. Job seekers and employers can visit a center in person or access information on their local One Stop Career Center via the Internet. Read the AFI article
The Lewin Group & VCU are key collaborators in the Office of Community Services' initiative to increase IDA participation for people with disabilities
VCU-RRTC is funded by grant #H133B040011 with the US DOE - NIDRR.
---
APSE 2010 Atlanta

21st Annual APSE National Conference
National conference focusing solely on integrated employment

Date: June 8-10, 2010
Location: Loews Atlanta Hotel, Georgia

This year APSE is spotlighting two areas —Social Security Ticket to Work and Work Incentives and Mental Health & Employment. Other breakout sessions will focus on state of the art innovative practices in job development, job support, transition, public policy, leadership and Employment First. In addition, there will be a self-advocates' conference orientation and meet & greet on the first day along with a community conversation focused on issues facing self advocates and employment. Conference and Registration details