Upcoming RRTC Virtual Brown Bag

Randy Lewis

Walgreen's Outreach

Date: 9/23/2008 | Time: 12:00pm ET (20 min)
Presenter: Randy Lewis, VP for Distribution Centers, Walgreens
Walgreens, one of the nation's largest drugstore chains, has launched an innovative initiative to hire people with disabilities at its distribution center in Anderson, S.C. Many of the outcomes learned from the RRTC research can be found in the Walgreens program as they have implemented a successful employment model for people with disabilities. Walgreens has learned that a diverse and integrated workforce is a powerful workforce.
Randy Lewis, VP for Distribution Centers with Walgreens will share the vision and some of the outcomes since the opening of their new Distribution Center.
Register for this Virtual Brown Bag (Complimentary)
This activity is funded by grant (RRTC) #H133B040011 with the US DOE - NIDRR.
---
Homeless Veterans Reintegration Program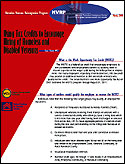 State Vocational Rehabilitation Agencies: An Under-Utilized Resource of Homeless and Disabled Veterans Factsheet
State Vocational Rehabilitation Programs are a valuable potential resource for reintegration efforts leading to employment outcomes for veterans who are homeless and disabled. This factsheet is drawn from an interview with Mr. James A. Rothrock, who for the last six years has served as the Commissioner of the Virginia Department of Rehabilitative Services.
HVRP (Homeless Veterans Reintegration Project) Technical Assistance Center is funded by grant #HV-16488-07-75-5-51with the US DOL.
---
Journal of Vocational Rehabilitation Article
Workplace discrimination and healthcare: The national EEOC ADA research project
In this article, using the Integrated Mission System of the EEOC, the employment discrimination experience of Americans with disabilities within the Healthcare industry is explored. Specifically, the researchers examined discrimination allegations closed with and without merit associated with each of the nine Standard Identification Classification code healthcare service groups. Allegations made against skilled nursing, intermediate care, and personal care facilities, particularly those in the Southern region of the US, were more likely to close with merit than those made against both hospitals and home health providers.The authors offer strategies for addressing discriminatory practices while providing opportunities for accommodations in an industry stressed by high turnover rates. Read this JVR article
Upcoming VCU - CRP-RCEP Region III Webcast

Dennis Moore

Substance Abuse & Employment

Date: 9/9/2008 | Time: 2:00pm ET
Presenter: Dennis Moore, Wright State University

Substance abuse is an on-going challenge in the American workforce and widely impacts employability, productivity, and benefits availability. This webcast will address key issues related to substance abuse and employment with a particular focus on how this issue impacts disability services such as vocational rehabilitation.

Definitions of substance abuse and how substance use disorder qualifies as a disability will be covered. This will be followed by an overview of the prevalence of substance use disorders related to the workplace and vocational rehabilitation programs. Key policy and practice issues will be identified, and promising and effective practices for addressing substance use disorders will be reviewed.

Register for this Webcast ($50 single; $175 agency)

This activity is funded by grant (RRTC) #H133B040011 with the US DOE - NIDRR and by grant (CRP-RCEP) #H264B050007 with the US DOE - RSA.
---
START-UP/USA Self-Employment Online Seminar

Molly Sullivan

What is a Plan for Achieving Self-Support (PASS)?

An Interview with Molly Sullivan

In this interview, Molly Sullivan explains what a PASS is and how a person may be able to set aside money into a PASS plan?
Start-Up-USA is funded by cooperative agreement # E-9-4-6-0111 from the U.S. DOL-ODEP.
---
START-UP/USA Self-Employment

View the 2007 Archived Webcasts for Free Online!
Watch the six webcast presentations featuring national speakers on self employment topics including: creative funding, family support, Medicaid Waivers, SBDC, loans, and other resources.
View the 2007 Self Employment Archived Webcasts online
The 2007 Self Employment Archived Webcasts are also available on DVD for $24.99. Shop Online | Product Brochure
Start-Up-USA is funded by cooperative agreement # E-9-4-6-0111 from the U.S. DOL-ODEP.