KTER Webcast

Getting to Work After a Traumatic Brain Injury
Date: 10/23/2012 | 2:00 pm ET
Presenters: Nathan D. Zasler, MD & Patricia Goodall, M.Ed.

Dr. Nathan Zasler and Ms. Patricia Goodall will discuss research and strategies for returning to work following a traumatic brain injury (TBI). The presenters will participate in a webboard to answer your questions, following the webcast. Participation in the webcast will qualify for one CRC from VCU-RRTC.
Nathan D. Zasler, MD, FAAPM&R, FACRM, FAADEP, FAAPM, CBIST, is an internationally respected specialist in brain injury care and rehabilitation. Dr. Zasler is the CEO and medical director of Tree of Life, a living assistance and transitional rehabilitation program for persons with acquired brain injury. He is also CEO and Medical Director of the Concussion Care Centre of Virginia, an outpatient evaluation and treatment center for persons with acquired brain injury.

Patricia Goodall, MEd, EdS, CBIST, has served since 1992 as Manager of the Brain Injury Services Coordination Unit, Virginia Department for Aging and Rehabilitative Services (DARS). Her previous positions included two years as director of training for a federally-funded Research and Training Center on Traumatic Brain Injury at Virginia Commonwealth University, and eleven years working on state and federal grants to develop and implement the concept of Supported Employment. Register Online

SEDL established the Center on Knowledge Translation for Employment Research (KTER) in partnership with Virginia Commonwealth University. The KTER Center is funded by The National Institute on Disability and Rehabilitation Research (NIDRR) Project Number: H133A100026.
---
Project Empowerment Webcast

Virtue & Psychosocial Adaptability in Disability
Date: 11/7/2012, 2:00pm ET
Presenter: Jeong Han Kim, Ph.D.
Jeong Han Kim, Ph.D., CRC is currently an assistant professor at the Department of Rehabilitation Counseling. He received his B.A. in psychology, and his M.S and Ph.D. in Rehabilitation Psychology at the University of Wisconsin-Madison. Dr. Kim has experience with several rehabilitation agencies, including state/federal VR, long-term health care, veterans hospital (compensated work therapy, mental health unit, AODA counseling unit), and independent living centers. His research and other scholarly activity includes publications through national and international journals, presentations, grantsmanship and editorial activities. His primary research interests focuses on virtues and character traits in the context of resilience, posttraumatic growth, well-being and vocational success. Register for this Webcast

---
Veterans Education & Transition Supports (VETS) in College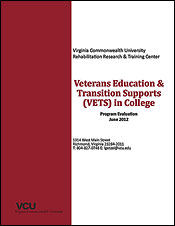 Executive Summary
Veterans Education and Transition Supports (VETS) in College was a demonstration project designed to assist current and former military service members' with their transition to postsecondary education using a mobile supported education model. Funded by a grant from The Commonwealth Neurotrauma Initiative (CNI) Trust Fund for a three year period (2009-2012), the program served veterans with spinal cord injury (SCI) and/or traumatic brain injury (TBI) at any point in their postsecondary endeavors. Many veterans with service-related injuries who are served by this program have additional conditions, such as post traumatic stress disorder (PTSD), visual, and orthopedic impairment, which can also be a factor for successful transition into postsecondary education. Read the Report
Research Study of the Month

The Apple iPod Touch as a vocational support aid for adults with autism: Three case studies
by Tony Gentry, Stephanie Lau, Alissa Molinelli, Amy Fallen and Richard Kriner

Personal digital assistants (PDAs) offer task management and organizational features that may be utilized to help people with autism spectrum disorder (ASD) function more successfully in the workplace. Additionally, onboard video cameras and addon software applications provide rich opportunities for the implementation of personalized vocational supports for individual workers. This article reports on three cases of workers with ASD who have been trained to use Apple iPod Touch PDAs as vocational supports in the workplace, resulting in improved functional performance and reduced behavioral challenges. Read the Newsrelease | Read the full text article
---
Upcoming Course - Register Now!
Job Development
Oct. 29 - Nov. 26, 2012
Job development is the "process of locating and creating work opportunities for individuals with disabilities". This is achieved by earning an opportunity to engage an employer and from there hopefully moving on to earning a commitment to meet, interview, and hire a specific job seeker. This course covers specific principles associated with job development via online lectures and readings and then requires the learner to take action on his or her behalf to further develop a particular skill. Participants also reflect upon what he or she learned from both the online content and field based experiential activity by sharing personal insights with other course members. ($125 per person or $500 for 5 registrants) Register Online

---
Project Empowerment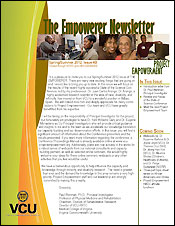 The Empowerer Newsletter
It is a pleasure to invite you to our Spring/Summer 2012 issue of THE EMPOWERER. There are many new exciting things that are going on and I would like to bring you up to date. In this issue we will focus on the results of the recent highly successful State of the Science Conference, led by my predecessor, Dr. Juan Carlos Arango. Dr. Arango, a highly acclaimed research scientist in the area of race, disability, and ethnicity, has moved on from VCU to a wonderful position in Bilbao, Spain. We will indeed miss him and deeply appreciate his many contributions to Project Empowerment. Our team and VCU have greatly benefitted from his expertise. Read this Issue of The Empowerer Newsletter
---
KTER Center Technical Brief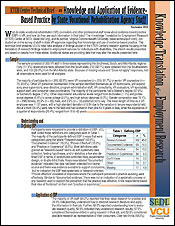 Knowledge and Application of Evidence-Based Practice by State Vocational Rehabilitation Agency Staff
What do state vocational rehabilitation (VR) counselors and other professional staff know about evidence-based practice (EBP) in VR, and how do they use such information in their jobs? The Knowledge Translation for Employment Research (KTER) Center at SEDL (kter.org), and its partner, Virginia Commonwealth University (worksupport.com), conducted an online survey of staff in state VR agencies regarding their knowledge and use of evidence-based practice. This technical brief presents VCU's initial data analysis of findings as part of the KTER Center's research agenda focusing on the translation of research findings related to employment services for individuals with disabilities. The interim results presented are based on results from three states. Additional states are providing data that may alter the results presented here. Read the KTER Center Technical Brief #3