12/7/06 Telework Webcast
Title: The Nuts and Bolts of Telework - Increasing Employment Opportunities for People with Disabilities - Register Online
Date: 12/7/2006
Time: 2:00 - 2:45pm ET
Presenters: Richard Horne, Jane Anderson, Richard Salnick
In this webcast, the presenters will discuss the basics of telework. Not to be confused with telemarketing, telework can be used as a strategy for return-to-work for people with disabilities and for increasing competitive employment for disabled Veterans. The webcast includes an overview of Federal interest in telework, given by Richard Horne, an in depth review of exactly what telework consists of, given by Jane Anderson, and an exploration of the success of Expediter, given by Richard Salnick.
In addition, the presenters will give an overview of the resources and services that are available for employers and job-seekers on the new DOL-ODEP TeleworkUSA.net website. Please join us as we take employers through the steps needed to build a successful telework environment, enjoy the many perks of holding telework positions in their companies, and the rewards of engaging job-seekers that need to work remotely. Register for this webcast

Fast Facts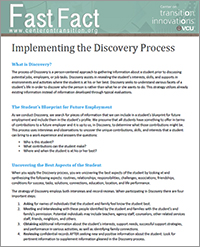 Reasonable Accommodations & the Americans with Disabilities Act
The Americans with Disabilities Act (ADA) of 1990 requires most public and private employers to provide reasonable accommodations that enable qualified people with disabilities to perform the essential functions of their jobs. As the term "reasonable" implies, the accommodation must not constitute an undue hardship to the employer. This fact sheet provides definitions of key terms and procedures related to job
accommodations under the employment provisions (Title I) of the ADA. Read the Fast Facts
Business Making a Difference Newsletter

People with Disabilities Securing Employment
InterContinental Hotels Group (IHG) is in the business of taking care of people – our guests, our franchisees, our employees and our communities. As a global hospitality leader, we are focused on providing an impeccable experience for those who stay with us, and on earning our reputation as the hotel franchisor and employer of choice.
To accomplish this, IHG must recruit, hire and develop the very best and brightest individuals, regardless of race, gender, ethnicity, physical abilities or limitations. IHG has an inclusive culture where different approaches to thinking and problem solving are welcomed and fairness and respect are highly regarded aspects of our people and leadership strategies. We welcome the opportunity to partner with respected organizations such as the VCU Rehabilitation Research & Training Center on Workplace Supports & Job Retention. Working together we can make a positive difference in the lives of many while furthering IHG's business objectives.
Read the Business Making a Difference Newsletter and get more information about pubic-private partnerships that work and obtain the latest research from VCU-RRTC.
Webcast Archive

Section 301- Presented by Lucy Miller
The term "section 301" refers to the continued payment of Social Security benefits to disabled or blind individuals who have been medically ceased but are permitted to receive benefit payments because of their participation in an approved program of vocational rehabilitation (VR) services, employment services, or other support services. These continued payments are often called "section 301 payments" because the authority for such payments is contained in section 301 of the Social Security Disability Amendments of 1980.
Unfortunately, section 301 is relatively unknown in the vocational rehabilitation community and many people who would be eligible for continued benefits under section 301 miss this unique opportunity. View the Archive