12/11/07 Complimentary Webcast
Promoting Partnerships & Employment for People with Disabilities in State Government
Patricia Waller

Date: 12/11/2007 , 2:00 - 2:45 pm ET

Presenters: Patricia Waller, Lynne Talley, Jennifer McDonough

Is the public sector doing what it can to attract and recruit individuals with disabilities into state employment? This web cast will share information regarding how the Virginia Board for People with Disabilities has targeted its grant process to explore an innovative idea of enhancing employment opportunities into state employment.

In addition you will learn how to access this program as well as learn how the Virginia Department of Human Resource Management is building resources for the state agencies to assist them in implementing the Governor's Executive Directive on recruiting and hiring more people with disabilities.


Lynne Talley


Jennifer McDonough
Learn More and Register Online for this Free Webcast
---
New RRTC Fact Sheet on PAS Vol 3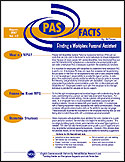 Providing Effective Workplace Personal Assistance Services
Workplace Personal Assistance Services (WPAS) is a valuable tool that assists employees with significant disabilities to find and maintain employment. It is fast becoming the most effective method for employees with disabilities to achieve the needed level of production to become effective and efficient in the workplace.
WPAS offers the opportunity for the workplace personal assistant to be exposed to different disabilities
and all types of work environments. This really makes WPAS a win-win situation for both the employee and the Workplace Personal Assistant (WPA). It also enables the employer to add diversity to their workforce since the employee with the disability and their WPA may come from different cultural and ethic backgrounds.
This fact sheet is funded by a grant (#H133B040011) with the US DOE - NIDRR.
New Guide

Community Rehabilitation Programs & Organizational Change: A Mentor Guide to Increase Customized Employment Outcomes
Developed based on the experiences of the T-TAP mentors and project staff. Provides information to Community Rehabilitation Providers on how to approach organizational change designed to improve employment outcomes. $29.99 Shop Online
This product was developed by T-TAP, funded by a cooperative agreement from the U.S. DOL - ODEP (policy # E 9-4-2-01217).
---
Register Now for the Start-UP-USA Webcast Series for 2008!
The webcast series allows you to connect to 6 live video presentations using your computer. The 45 minute presentations are followed by 30 minute chat sessions where you ask questions directly of the presenters from your computer. All webcasts are archived.
Don't miss this opportunity to receive 6 live presentations and earn CRCs on the following current topics:
Community Small Business Development Resources
Presenter: Cary Griffin
Date: February 27, 2008
CRPs & Creative Funding for Self Employment
Presenter: Beth Durkee, Dave Hammis
Date: March 5, 2008
Family Support and Self-Employment
Presenter: Dusty Dutton, Dale Dutton
Date: March 26, 2008
Medicaid Waivers: A Tool for Self-Employment
Presenter: Molly Sullivan
Date: April 16, 2008
SBDC - Business Planning and Implementation
Presenter: Bill Wersell
Date: May 14, 2008
Microloans & Small Business Loans
Presenter: Patti Lind
Date: July 9, 2008
You may register for the series or for single webcasts. For More Information and pricing visit Start-UP-USA *
* Scholarships available to individuals with disabilities who are thinking about starting a business.
Start-Up-USA is funded by a cooperative agreement (# E-9-4-6-0111) from the U.S. DOL-ODEP.