Now Available!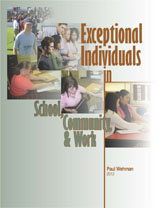 Exceptional Individuals in School, Community, & Work

This book is comprehensive in scope, exploring the major issues in the disability field as well as describing the different labels given to children with disabilities. The reader will see a strong emphasis on teaching and instructional intervention.
Exceptional Individuals, however, is focused more upon young people in our nation's schools who have been identified with a disability. The text examines how to help children, older youths, and adults, succeed in school, in the community, at home, and at work. A collective expertise of topical specialists have contributed chapters. This book can serve professionals in training as well as general educators at all levels of elementary, middle, and secondary education. (Price $34.99) Order this book online
VCU-RRTC is funded by grant #H133B040011 with the US DOE - NIDRR.
---
START-UP/USA Self-Employment

Bill's Story: Admiralty Westside Lodge
Bill Brent is a man who loves the beauty and peacefulness of the natural outdoors in Alaska. He bought property on the west side of Admiralty Island, which has the largest concentration of brown bear in the world. Mr. Brent's property is rare private acreage within the Admiralty Island National Monument.
Read Bill's Story about starting a business at his wilderness lodge

---
WIPA Briefing Paper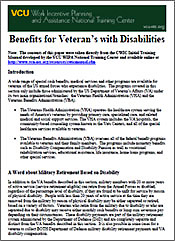 Benefits for Veteran's with Disabilities
A wide range of special cash benefits, medical services and other programs are available for veterans of the US armed forces who experience disabilities. The programs covered in this paper only include those administered by the US Department of Veteran's Affairs (VA) under its two main organizational branches: the Veterans Health Administration (VHA) and the Veterans Benefits Administration (VBA). Read this WIPA Briefing Paper
Work Incentive Planning and Assistance National Training Center (WIPA) is funded by contract #SS000760050 with the Social Security Administration.
New Online Course Starts Feb. 16th
Customized Employment (February 16 - March 16)
This 4 week course covers the important topics in customized employment. Customized employment is a process for individualizing the employment relationship between a job seeker and an employer in ways that meet the needs of both. It is based on a match between the unique strengths, needs, and interests of the job candidate with a disability, and the identified business needs of the employer or self-employment.
Customized employment uses a flexible blend of strategies, services, supports, and funds to facilitate employment for job seekers with complex needs through negotiated employment relationships. There are four, 1-week lessons. Allow 4 hours to complete each lesson.
Course Lessons:
Overview of Customized Employment
Job Seeker Exploration
Employer Negotiations
Funding Customized Employment
Upon successful completion you may earn 16 CRCs or 1.6 CEUs. (Register by Feb. 1 for the introductory fee of $60, after this date the fee will be $100). Find out more and register online
VCU-RRTC is funded by grant #H133B040011 with the US DOE - NIDRR.
---
Success Stories - Jason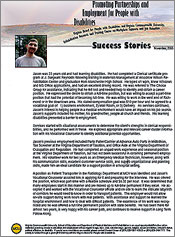 Promoting Partnerships & Employment for People with Disabilities - Success Stories
Jason was 23 years old and had learning disabilities. He had completed a clerical certificate program at J. Sargeant Reynolds Community College following training in Materials Management at Woodrow Wilson Rehabilitation
Center and graduation from high school. He typed 41 wpm, knew Windows and MS Office applications, and had an excellent driving record.
He was referred to The Choice Group, a private rehabilitation and employment services organization, for assistance indicating that he felt lost and needed help to identify and obtain a career position. Read this Success Story
This activity is funded by a grant with the Virginia Board for People with Disabilities and the VCU-RRTC