Upcoming HVRP Free Webcast

Mary Huber

Debbie Joseph


Missy Jones

Substance Abuse and Employment of Homeless Veterans

Date: Feb. 22 | Time: 2:00 pm ET

By: Mary Huber, Debbie Joseph, Missy Jones

This presentation will focus on substance abuse. The presenters will begin by discussing the prevalence of unemployed homeless veterans and the co-occurrence of mental health issues including TBI, SUD, and PTSD. Next, strategies and techniques in working with employers and homeless veterans in helping them find and retain employment will be provided. In closing information about training and motivational techniques for administrators to use when supervising and motivating their employees to assist homeless veterans find employment will be offered.
Register Online for the entire HVRP webcast series
HVRP (Homeless Veterans Reintegration Project) Technical Assistance Center is funded by grant #HV-16488-07-75-5-51with the US DOL.
---
START-UP/USA Self-Employment Q & A Fact Sheet
Braiding and Blending Funding for Business Start-Up


Most individuals who want to start a business will need financial assistance. Some people may rely on personal savings, loans from family members, loans from financial institutions, or micro-enterprise loans. In some instances, bank loans have very high interest rates or require collateral, and individuals with disabilities may not qualify. Therefore, they may need to "blend or braid funding" from an array of resources, including those that are specifically available to individuals with disabilities. These resources include but are not limited to case management assistance, employment support services, and funding specifically for individuals with disabilities in achieving employment outcomes. The agencies that provide these supports operate under different federal, state and local laws, regulations, policies and service arrangements. Read the fact sheet
Start-Up-USA is funded by cooperative agreement # E-9-4-6-0111 from the U.S. DOL-ODEP.
---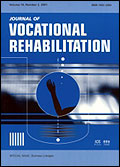 JVR Article
Establishing a National Employment First Agenda
by Bob Niemiec, Don Lavin & Laura Owens
In order to advance the growing national momentum to focus on integrated employment as the desired outcome for citizens with disabilities, the Board of Directors of APSE recently established a strategic objective to support and promote the Employment First movement throughout the United States. The purpose of this paper is to identify the fundamental principles of an effective state or local initiative. The principles identified in this paper are built upon practical experiences and track records of several Employment First projects operating successfully around the country.
The Journal of Vocational Rehabilitation is published by IOS Press.
---
Project Empowerment Webcast
Cultural Competency in Rehabilitation
Date: Feb. 25 | Time: 2:00 pm ET
Presenter: Dr. Allen Lewis, VCU & Panelists
This webcast will cover the following topics:
Definition of cultural competency
Teaching cultural competency in rehabilitation
Cultural competency in rehabilitation service provision
Cultural competency in rehabilitation research, and
Cultural competency and knowledge translation in rehabilitation
Find out More & Register Online
---
Call for Disability-Owned Businesses

The USBLN® is pleased to announce the launch of the Disability Supplier Diversity Program! This program offers businesses that are owned by an individual(s) with a disability, including service disabled veterans, an exciting opportunity to increase their access to potential contracting opportunities with major corporations, government agencies, and one another.
If you or someone you know is a business owner with a disability, and would like to learn more about how to get Disability- Owned Business Enterprise Certification through this program, please contact Aditi Dussault, Director of Affiliate Relations and the Disability Supplier Diversity Program, at aditi@usbln.org or 202.487.5868. FAQs about this Program
Source: US Business Leadership Network

2010 Online Courses - CEUs & CRCs Available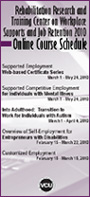 Overview of Self-Employment for Entrepreneurs with Disabilities (2/15 - 3/22)
Customized Employment (2/15 - 3/15)
Into Adulthood: Transition to Work for Individuals with Autism (3/1 - 4/4)
Supported Employment Web-based Certificate Series (3/1 - 5/24) - ACRE Approved
Supported Competitive Employment for Individuals with Mental Illness (3/1 - 5/24) - ACRE Approved
Find out More & Register Online | Print Brochure (PDF)
VCU-RRTC is funded by grant #H133B040011 with the US DOE - NIDRR.
---
PROJECT SEARCH Celebration
On Feb 26, 2010, there will be a celebration of the implementation of Project SEARCH at the VCU Medical Center. The celebration will recognize the efforts of all parties involved to successfully implement a program to teach students with significant disabilities job skills for competitive employment. The celebration will include words of welcome from top representatives from the VCU Medical Center, Richmond Public Schools, Virginia Department of Education, DRS, and the VCU-RRTC. Student participants will present certificates of recognition to several hospital department representatives attending the celebration.
Project SEARCH provides employment and education opportunities for individuals with significant disabilities. The program is dedicated to workforce development that benefits the individual, community and workplace. This is critical for students with significant disabilities for their future employment opportunities. Read about the Project Search Celebration (pdf)
---
Assets for Independence (AFI) Fact Sheet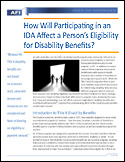 How Will Participating in an IDA Affect a Person's Eligibility for Disability Benefits?
Two of the largest Federal programs that pay monthly cash benefits to qualified individuals with disabilities are the Title II Disability benefit program (also commonly referred to as Social Security Disability or SSDI) and the Supplemental Security Income program, or SSI. In addition to income support, these programs also provide beneficiaries with access to health insurance and a variety of incentives to encourage and support work. While the Title II and SSI programs share a common disability requirement and process for determining disability, they are very different programs when it comes to their purpose, non-disability eligibility requirements and their treatment of work, earnings, and resources. Based on these important differences in program rules, answering the question "How will participating in an IDA affect a person's eligibility for disability benefits and monthly benefit amounts?" requires first understanding which of the Social Security benefits a participant receives. Read the AFI Fact Sheet
The Lewin Group & VCU are key collaborators in the Office of Community Services' initiative to increase IDA participation for people with disabilities
VCU-RRTC is funded by grant #H133B040011 with the US DOE - NIDRR.
---
PEATC NEXT STEPS 2010 Transition Program Webcasts

Bringing together all the elements needed for a successful transition for a youth with a disability can be a monumental effort. The Parent Educational Advocacy Training Center (PEATC) in collaboration with VCU-RRTC is offering a webcast series for parents, students with disabilities, and the professionals who work with them.
Mar 1: Straight Talk about Accommodation & Self-Disclosure
Mar 15: Don't Leave School Without It-What's in Your Wallet?
Apr 5: Guardianship – Rights, Risks, & Responsibilities
Apr 19: Parents As Essential Partners in Transition
May 3: The New Ticket To Work Program - What's in it for Young People
May 17: Universal Design for Learning-a Pathway for Lifelong Learning
This series is funded by PEATC in partnership with VCU.
---
HVRP Training Opportunity
2010 Customized Employment & Self-Employment BOOT
Date & Location: February 17-18, 2010 | Miami, Florida
The Customized Employment and Self-Employment Business Ownership Opportunity Training (BOOT) is a two day training event designed to provide HVRPs and their collaborators with basic information about assisting homeless veterans secure employment and start small businesses. Training topics include:
Overview of Customized Employment
Job Seeker Exploration
Discovery
Business Ownership
Developing a Business Plan
Self Employment Resources
Business Models, and
Funding Issues
This training is FREE of charge and lunch will be provided for participants each day. More information & Registration