Upcoming Courses:
New Autism Webcourse

Into Adulthood: Transition to Work for Individuals with Autism (July 20 – Aug 24)

More than ever, individuals with autism spectrum disorders are participating in the mainstream of school, work, and the community. Careful transition planning from secondary education is critical for young people with autism spectrum disorders to be successful in the community however; there is limited information on this topic. This 5 week course will provide the participant with an in-depth understanding of the concepts related to positive transition planning for youth with autism.
Upon successful completion, you may earn CRCs, CEUs, or 45 points toward teacher licensure re-certification under the professional development category with prior approval of your
school district.
(Tuition is $275 per person, plus the purchase of the book Autism: Transition to Work by Wehman, Datlow-Smith and Schall for $23.07 at Amazon.com .) Find out More and Register Online

VCU-RRTC is funded by grant #H133B040011 with the US DOE - NIDRR.
---
Self Employment Webcourse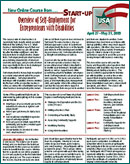 Overview of Self-Employment for Entrepreneurs (July 13 - Aug 17)
Self-employment is increasingly recognized as a viable employment option for people with disabilities. Self employment for individuals with disabilities involves minimizing the fears of the prospective business owner, as well as the rehab & local small business development professionals who assist them. A person does not need to"get ready" to own a business, if a customized approach is used.
Course runs from July 13 - Aug 17. Tuition is $60 per person. Take a look at the brochure and register online today!
Start-Up-USA is funded by cooperative agreement # E-9-4-6-0111 from the US DOL-ODEP.
---
Customized Employment Webcourse
Customized Employment - (June 15 - July 13, 2009)
This 4 week course covers the important topics in customized employment. Customized employment is a process for individualizing the employment relationship between a job seeker and an employer in ways that meet the needs of both. It is based on a match between the unique strengths, needs, and interests of the job candidate with a disability, and the identified business needs of the employer or self-employment. (Tuition is $60 per person.) Find out More and Register Online

VCU-RRTC is funded by grant #H133B040011 with the US DOE - NIDRR.
---
The 2009 APSE National Conference

Register now for the most informative conference on Integrated Employment this year!

The 2009 APSE National Conference
Employment for All: A Celebration in the City of Festivals! Hyatt Regency Milwaukee
(June 30 - July 2, 2009)

To Register Online and for the complete list of breakout sessions, visit www.apse.org . Early Registration Deadline is May 15, 2009.
Upcoming Free PEATC Webcast!

Student Voice: The Transition to College
Date: 5/18/2009
Time: 2:00 - 2:45pm ET
Presenter: Elizabeth Getzel
The transition from high school to college is challenging for all students. However students with disabilities once protected and supported by IDEA policy may be unaware of the challenges facing them once they enter higher education. Parents also have a new role to play when students with disabilities enter college. Find out more and Register for this free PEATC webcast
This series is funded by PEATC in partnership with RSA and VCU.
---
START-UP/USA Self-Employment Fact Sheet
Low Cost/No Cost Marketing Strategies for Small Businesses
Marketing and promotion is essential for all enterprises. One size does not fit all, and what is good for one company may be disastrous for the next. All businesses need to have customers, or they will go out of business. Marketing certainly does not have to be costly, but it does have to be a conscious and a continuous activity. This START-UP "Q and A" addresses a few of the more common promotional questions asked by new business owners. Read the factsheet
Start-Up-USA is funded by cooperative agreement # E-9-4-6-0111 from the U.S. DOL-ODEP.
---
Upcoming Free HVRP Webcast!

Job Development: Job Search Strategies for Homeless Veterans with Disabilities
Date: 6/4/2009 Time: 2:00pm ET
Presenters: Pam Targett & Gail Reed
This webcast will take a look at some job development strategies including warm calls, cold calls, and networking. Content for an initial employer contact will also be reviewed including how to project a job seeker's assets. Register Online.

HVRP (Homeless Veterans Reintegration Project) Technical Assistance Center is funded by grant #HV-16488-07-75-5-51with the US DOL.
---
START-UP/USA 2009 Webcast Series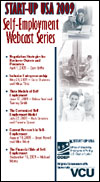 Announcing the 2009 Self-Employment Webcast Series! (All begin at 2 pm ET)
It's not too late to sign up for the live webcasts on Self Employment. Earn CRCs on the following current topics:
(Scholarships available to individuals with disabilities.)

Find out More & Register | Brochure
Upcoming Webcasts:
Start-Up-USA is funded by cooperative agreement # E-9-4-6-0111 from the U.S. DOL-ODEP.