Upcoming Self Employment Webcast

Debra Noel

Tammy Smith

Three Models of Self-employment

Date: 6/17/09
Time: 2:00 - 2:45pm ET


Presenters: Debra Noel, Tammy Smith, & Karla Herrera

(Scholarships available to individuals with disabilities.)
This webcast will present information on three models of self-employment as part of START-UP/Florida. These models include: BOSS (Bridging Opportunities for Self-Sufficiency), METTA (Micro-Enterprise Training and Technical Assistance), and FastTrac". Each of the three programs has identified future entrepreneurs who are participating in one of the models. Although each model addresses self-employment in a different way, START-UP/Florida plans to bring real issues to this presentation by sharing the true stories of how all entrepreneurs are faced with common challenges. This webcast will draw from the experiences of many customers, but will focus on the how one person is overcoming amazing obstacles in their quest to improve their quality of life through self-employment.

Find out More & Register | Brochure

Start-Up-USA is funded by cooperative agreement # E-9-4-6-0111 from the U.S. DOL-ODEP.
---
HVRP Factsheet #6: Ex-Offenders and Employment


A job can be the spark of hope that changes the path for a homeless veteran and his or her family. Many homeless veterans, who are accustomed to living on the street, have had altercations with the law. Now their struggle to secure employment has just gotten more difficult because they will not pass an employers criminal background search. Ex-offenders do face a unique set of challenges but with proper support and guidance these challenges can lead to competitive employment success.
One of the main barriers facing ex-offender in gaining employment after serving their sentence is identifying employers who are willing to take a risk. It can be scary for employers to hire an ex-offender and often companies have rules and policies which restrict the employment of individuals with specific criminal backgrounds. However, this does not mean that individuals with a criminal background will not be able to find employment but it makes it harder and may take more time and incentives to be successful in the job market. Read this fact sheet
HVRP (Homeless Veterans Reintegration Project) Technical Assistance Center is funded by grant #HV-16488-07-75-5-51with the US DOL.
Upcoming Summer Courses

Self Employment Webcourse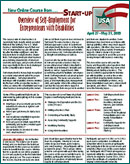 Overview of Self-Employment for Entrepreneurs (July 13 - Aug 17)
Self-employment is increasingly recognized as a viable employment option for people with disabilities. Self employment for individuals with disabilities involves minimizing the fears of the prospective business owner, as well as the rehab & local small business development professionals who assist them. A person does not need to"get ready" to own a business, if a customized approach is used.
Course runs from July 13 - Aug 17. Tuition is $60 per person. Scholarships available to individuals with disabilities. Take a look at the brochure and register online today!
Start-Up-USA is funded by cooperative agreement # E-9-4-6-0111 from the US DOL-ODEP.
---
Customized Employment Webcourse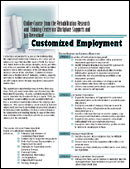 Customized Employment (June 15 - July 13)
This 4 week course covers the important topics in customized employment. Customized employment is a process for individualizing the employment relationship between a job seeker and an employer in ways that meet the needs of both. It is based on a match between the unique strengths, needs, and interests of the job candidate with a disability, and the identified business needs of the employer or self-employment. (Tuition is $60 per person.)

Find out More and Register | Brochure

VCU-RRTC is funded by grant #H133B040011 with the US DOE - NIDRR.
---
START-UP/USA Online Seminar

The Role of Vocational Rehabilitation in Self-Employment
Grant Revell reviews the potential resources and support available through State VR Agencies for individuals with disabilities who have a goal of self-employment. Grant worked for a number of years at the Virginia Department of Rehabilitative Services as a counselor and state program manager prior to coming to the Research and Training Center. He has personal experience with Vocational Rehabilitation as a helpful resource in supporting employment goals and outcomes.

Start-Up-USA is funded by cooperative agreement # E-9-4-6-0111 from the U.S. DOL-ODEP.