Internship Leads to Full-Time Employment

Keagan Giles was a first year participant in Project SEARCH at VCU Health Systems. Keagan, a former Richmond Public Schools student, is the first intern to be hired by VCU Health Systems. As of May 3, 2010 Keagan became a full-time, fully benefited employee in Patient Transportation. His gaining of competitive employment is a direct result of his success in his first internship.

Keagan spent the first 10 weeks going to 14 different labs throughout the hospital system. He was responsible for picking up lab specimens, documenting them and delivering the specimens to the appropriate lab. The safe and timely delivery of lab specimens is an absolute must in this job. Keagan contributes to a vital role in the hospitals. The results from the specimens are often life changing.
Virginia Department of Education provided start-up funding for project implementation. Project Information
---
Upcoming Employment Webcast

Impact of Follow-Along Support on Job Tenure in Evidence-Based Supported Employment

Date: June 17th | Time: 2:00 pm ET
Presenter: Gary Bond, Ph.D., Professor of Psychiatry Dartmouth Psychiatric Research Center Dartmouth Medical School
The Individual Placement and Support (IPS) is an evidence-based model of supported employment for individuals with severe mental illness. However, little is known about the nature and intensity of follow-along support in IPS programs or how IPS helps clients become steady workers over the long term. This webcast summarizes the findings for a two-year follow-up study of follow-along support and employment outcomes for 142 IPS clients. Register for this webcast

VCU-RRTC is funded by grant #H133B040011 with the US DOE - NIDRR.
---
JVR Article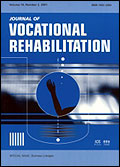 Positive Behavior Support: Supporting Adults with Autism Spectrum Disorders in the Workplace

by Carol M. Schall
Individuals with autism spectrum disorders (ASD) can present challenging behavior at work. In fact, it is likely that the presence of challenging behavior can act as a major barrier for individuals with ASD achieving competitive employment. Community-based work environments can present challenges in the implementation of behavior intervention plans. Positive behavior support (PBS) is a behavior intervention model that presents opportunities to implement socially valid behavior interventions in supported and competitive workplaces. This article describes the PBS model and provides a case example for an individual with ASD at work. Finally this article presents recommendations for future research in supporting individuals with ASD at work. Read this JVR Article
The Journal of Vocational Rehabilitation is published by IOS Press
---
HVRP Factsheet: Benefits & Employment Services for Veterans with Disabilities
by Molly Sullivan & Beth Keeton
There are a variety of benefit programs and employment
services available to veterans who experience a disability that play a critical role in making meaningful employment happen. In the process of pursuing employment it is important to identify the current benefits (cash benefits and health insurance) a veteran is utilizing, to plan out any changes that might occur once working, if any, and identify special work rules those benefit programs may have that support work.
Additionally, there are several employment programs that assist veterans in securing and maintaining employment. These programs can provide crucial support in developing a plan for employment and accessing needed services and support. This paper provides an overview of the main employment services and benefits available to veterans with disabilities. Read More
HVRP (Homeless Veterans Reintegration Project) Technical Assistance Center is funded by grant #HV-16488-07-75-5-51with the US DOL.
VCU-RRTC Online Courses - CEUs & CRCs Available

Ethical Issues and Decision Making for Rehabilitation Professionals 6/21/10 - 7/26/10
EARN 10 CRCs in ETHICS* - This 6 week online course explores the professional ethics that guide rehab professionals as they work with customers, individuals with disabilities and employers. The course uses the newly revised Code of Ethics for Rehabilitation Counselors developed by the Commission on Rehabilitation Counselor Certification (CRCC) as the guiding source of the ethical framework for the profession. Find out more & Register

Into Adulthood: Transition to Work for Individuals with Autism 7/19/10 - 8/30/10


This course will provide the participant with an in-depth understanding of the concepts related to positive transition planning for youth with autism. The issues, challenges, and strategies that are involved with helping young people with autism participate to the fullest degree in society will be examined. Find out more & Register

Overview of Self-Employment for Entrepreneurs with Disabilities 7/26/10 - 8/30/10


Self-employment is increasingly recognized as a viable employment option for people with disabilities. Self employment for individuals with disabilities involves minimizing the fears of the prospective business owner, as well as the rehab & local small business development professionals who assist them. A person does not need to"get ready" to own a business, if a customized approach is used. Find out more & Register

Supported Employment Web-based Certificate Series (ACRE-certified) 8/16/10 - 11/15/10

ACRE-certified* - This online course provides an extensive overview of supported employment and how to facilitate competitive jobs for individuals with significant disabilities. Topics include: Federal Policy and Overview Customer Profile; Marketing and Job Development; Job-Site Support; and Long Term Supports & Funding. Find out more & Register

Supported Competitive Employment for Individuals with Mental Illness (ACRE-certified) 8/16/10 - 11/15/10


ACRE-certified*

- This online course provides an extensive overview of supported competitive employment for individuals with mental illness. Sessions will include these topics: Overview and Values Base; Building Relationships with Business; Establishing a Career Direction; Locating Work Opportunities; Employment Support; and Funding & Other Topics. Find out more & Register


VCU-RRTC is funded by grant #H133B040011 with the US DOE - NIDRR.
---
HVRP Training - Getting Employer Buy-in
Are you having trouble getting employer buy-in during these tough economic times?
Join us to find out what resources, skills, and opportunities are needed to develop a working relationship with employers. Learn how to gain insight into employer needs, goal, and values. Also covered in this training is information on working with clients with criminal backgrounds. Register Now! The training is free & food will be provided!
Hosted by: SEARCH Homeless Services
June 16, 2010 | 9:00 am - 4:00 pm
Location: Houston, TX
Presenters: Ric Byrd & Pam Targett
Register Now! The training is free & food will be provided!
HVRP (Homeless Veterans Reintegration Project) Technical Assistance Center is funded by grant #HV-16488-07-75-5-51with the US DOL.
---
Project Empowerment Webcast

The Three-Factor Model for Counseling Culturally Diverse Individuals
Date: July 28th | Time: 2:00 - 3:30pm ET



Presenters: Allen Lewis, Ph.D., Aisha Shamburger, MS, CRC, CRP, Ph.D. Student
Do you ever wonder what tools are out there that really work to improve your ability as a service provider of rehabilitation or disability services to connect cross-culturally? Do you sometimes wish that you could find the "right" tool that would integrate seamlessly into your current counseling style? Well, look no further. Join us for the next Project Empowerment webcast.The three-factor model is an assessment tool that you will develop to enhance your ability to get acquainted with your clients along the three factors of cultural identity, stage of development, and adjustment to disability. Register for this webcast