VCU ASD Career Links Webcast
Date: 9/16/2011, 2:00 pm Eastern
Behavior Support for Individuals with ASD at Work by Carol Schall, Ph.D.
Positive Behavior Intervention and Support is a set of assessment procedures and interventions that are uniquely designed to 'fit' in work-based contexts (Albin, Lucyshyn, Horner, & Flannery, 1996). This webcast presents a review of the Positive Behavior Intervention and Support practices that assist individuals with ASD to become independent at work. During this presentation, Dr. Schall will present three case studies that exemplify the types of supports and interventions best implemented in workplace settings. Cost is $25. Register Online
---
Fall 2011 VCU Autism Center for Excellence Webcast Series


Date: 9/13/2011, 3:30 pm Eastern
From Diagnosis to Intervention for Individuals with an Autism Spectrum Disorder by Donald Oswald, Ph.D.
This webcast, "From Diagnosis to Intervention for Individuals with an Autism Spectrum Disorder" will provide an overview of the process for identifying children with ASDs and developing intervention plans. Instruments and approaches for screening and diagnosis are reviewed with an emphasis on the critical role of parents in the process. A brief discussion of how diagnostic assessment leads to intervention plans concludes the session. Other webcasts in this series:
Date: 10/11/2011 - Eligibility for Special Education Services under the Category of Autism
Date: 11/8/2011 - Smartphones, iPads and Tablet PCs as Cognitive-Behavioral Aids in Autism

Date: 12/13/2011 - ABA = Good Teaching

Register for $25 per webcast or Register for the entire 4-webcast series for $75. Group rates available. * Note: This training is free to Virginia participants.
---
VCU-ACE Q&A Factsheet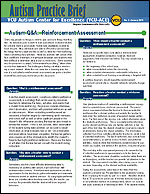 Designing Instructional Programs for Skill Acquisition

There are a number of things that the teacher should consider when developing an instructional program to teach a new skill. First, the teacher must decide what to teach by evaluating the student and setting an instructional objective. Second, the teacher needs to identify the instructional or natural cues that signal the student to perform the skill. Third, behavior change procedures must be selected and can include reinforcement procedures and prompting strategies. Read the entire factsheet
---
V.E.T.S. in College Update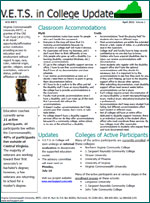 In order to ensure the availability and quality of the data and experiences the V.E.T.S. in College program has had with veterans over the past two years, the program will be undergoing an internal evaluation.
The evaluation will primarily use non-experimental methods to gather and collect data due to the limited number of veterans and varying degrees of activity of each individual in the program. Maximum variation, criterion, and snowball sampling methods will be used to gain feedback from veterans, education coaches, and other community stakeholders. Read the Update
For more information about V.E.T.S. contact Liz Getzel, lgetzel@vcu.edu, 804-827-0748.
Online Courses Starting in October

Foundations of ASD: National Autism Online Training Series October 3 - 31, 2011
Autism Spectrum Disorders are considered to be a lifelong neurological developmental disability which share many characteristics. With the number of individuals diagnosed with autism on the rise, there is a strong probability everyone will encounter someone with ASD either at work or daily life. This course will provide participants with an understanding of the primary characteristics of ASD, which include impairments in communication and social development and the presence of repetitive patterns of behavior. Secondary characteristics, including sensory processing differences and motor deficits will also be explored. The course will discuss the impact ASD has on the person as well as the family unit. The course will also provide an overview of learning styles, the history, cause, and early signs of ASD. Cost: $125 per individual | $500 for 5 individuals Register Online
VCU-ACE is funded by the VA DOE (Grant # 881-61172-H027A100107). For additional information, contact autismcenter@vcu.edu or (855) 711-6987. If you live in Virginia, please contact VCU-ACE for a schedule of courses offered at no cost through funding from the VA DOE.
---
• Customized Employment Online Course (Oct 17 - Nov 14)
Customized employment is a process for individualizing the employment relationship between a job seeker and an employer in ways that meet the needs of both individuals. This course examines how to make this happen. Topics include: overview of customized employment, ways to get to know the job seeker, strategies to find jobs, and blending supports and funds. Earn 1.6 CEUs, 16 CRCs and a Certificate of Course Completion from VCU. Cost $85 per person. Register Online
---
• Ethical Issues and Decision Making for Rehabilitation Professionals Online Course (Oct 17 - Nov 28)
EARN 10 CRCs in ETHICS* - This 6 week online course explores the professional ethics that guide rehab professionals as they work with customers, individuals with disabilities and employers. The course uses the newly revised Code of Ethics for Rehabilitation Counselors developed by the Commission on Rehabilitation Counselor Certification (CRCC) as the guiding source of the ethical framework for the profession. Register Online
---
• Into Adulthood: Transition to Work for Individuals with Autism Online Course (Oct 24 - Dec 5)
More than ever, individuals with autism spectrum disorders are participating in the mainstream of school, work, and the community. Careful transition planning from secondary education is critical for young people with autism spectrum disorders to be successful; however, there is limited information on this topic. This course will provide the participant with an in-depth understanding of the concepts related to positive transition planning for youth with autism. The issues, challenges, and strategies that are involved with helping young people with autism participate to the fullest degree in society will be examined. Tuition: $275, Textbook: $23.07, Total: $298.07 Register Online

---
• Job Development Online Course (Oct 31 - Nov 28)
Job development is the "process of locating and creating work opportunities for individuals with disabilities". This is achieved by earning an opportunity to engage an employer and from there hopefully moving on to earning a commitment to meet, interview, and hire a specific job seeker. This course covers specific principles associated with job development via online lectures and readings and then requires the learner to take action on his or her behalf to further develop a particular skill. Participants also reflect upon what he or she learned from both the online content and field based experiential activity by sharing personal insights with other course members. Register Online
---
VCU Project Empowerment's State of the Science Conference March 1- 2, 2012
VCU Project Empowerment funded by the National Institute of Disability and Rehabilitation Research (NIDRR) invites you to attend "Race, Ethnicity, and Disabilities: State of the Science Conference." Mark your calendar for this conference that will bring expert researchers and educators to present about the state of the science of disability research involving racial and ethnic minorities on March 1 and 2, 2012 at Crystal Gateway Marriott in Arlington, VA. For more information visit www.vcu-projectempowerment.org or contact Juan Arango-Lasprilla, Ph.D. jcarangolasp@vcu.edu or 804-828-8797.