Upcoming RRTC Webcast - Complimentary

Gov. Tim Kaine


James Rothrock


Sara Wilson

Partnership for Employment

Date:11/19/2008 | Time: 2:00pm ET
Presenters: VA Governor Tim Kaine, James Rothrock, VA DRS Commissioner & Sara Wilson, Director of the VA Dept of HR Mgt

Introduction by VA Governor Tim Kaine on his commitment for Virginia State Agencies to continue recruiting, accommodating and hiring people with disabilities.

The State of Virginia has taken steps to increase the recruitment of individuals with disabilities into state employment. This webcast will share the success achieved in the past 2 years from the Partnership for Employment program funded by the Virginia Board for People with Disabilities.
VCU-RRTC along with the DHRM, DRS, and several local community rehabilitation programs have worked together to provide education, technical assistance and direct placement services which has enhanced the employment opportunities for people with disabilities into state employment. This training will provide you with information on how VCU-RRTC, the Virginia Department of Human Resource Management and DRS are going to continue the efforts to implement the Governors Executive Directive # 8.

Register for this complimentary webcast
This activity is funded by a grant with the Virginia Board for People with Disabilities and the VCU-RRTC.
---
START-UP/USA Self-Employment Fact Sheet
Self-Employment Q and A: Discovery
Traditionally, determining employer needs and then finding a person with a disability to fill the job was common practice. Today, using a customized employment (CE) framework, an individual's talents and desires are considered first. Then suitable employment is negotiated that matches the person's skills, contributions, and interests. This customized approach to assisting an individual with a disability in finding a job also applies to starting a business. In other words, the person's talents desires, and interests are considered first, and the business idea follows. The process for determining the person's talents, desires, and interests is called "Discovery". This Q and A will answer some basic questions about how to use Discovery when assisting an individual in becoming self-employed. Read this factsheet
Start-Up-USA is funded by cooperative agreement # E-9-4-6-0111 from the U.S. DOL-ODEP.
---
Journal of Vocational Rehabilitation Article
A revolution in the employment process of individuals with disabilities: Customized employment as the catalyst for system change
This paper describes and analyzes a seven-year systems change effort focused on developing customized employment opportunities through a community rehabilitation program (CRP) that provides supports to persons with mental illness, developmental disabilities, and addictive diseases in Georgia. By using case studies and qualitative data, the path to real and effective organizational improvement in the area of customized employment outcomes is explored.
The following points of analysis on systematic organizational development emerged from the data review: (1) staff development; (2) community partnerships and diversified funding; (3) sustainability; (4) shift in managerial approaches and supervision; (5) changes in human resource processes; and (6) expanding customized employment to diverse populations; i.e. offenders, youth, welfare to work.
Read this JVR article
New NCD Report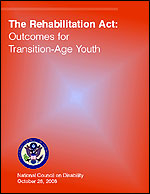 The Rehabilitation Act: Outcomes for Transition Age Youth

This report is a comprehensive assessment of the impact of the Rehabilitation Act on the employment and postsecondary education outcomes of eligible transition-age youth.
The Rehabilitation Act of 1973, together with the Education for All Handicapped Children Act of 1975, set in motion policy changes that have allowed many thousands of children and youth with disabilities in the United States the opportunity to gain the educational and vocational skills needed to transition to living, working, and participating as adults in community life. Read the Report
VCU-RRTC is funded by grant #H133B040011 with the US DOE - NIDRR.
---
Upcoming Homeless Veterans Reintegration Project (HVRP) Webcast

Lucy Miller

Benefits for Veterans with Disabilities
Date:11/20/2008 | Time: 2:00pm ET
Presenter: Lucy Miller, VCU

This webcast will offer a basic overview of benefits available for Veterans with disabilities and describe how these benefits are affected by employment. The specific benefit programs covered in this session will include:
Military retirement based on disability
VA Disability Compensation
VA Disability Pension
The session will begin with an overview of the VA disability rating system and how disability rating is related to benefit payments. A description of the 3 disability benefit programs will be provided including the basic eligibility requirements. The program will conclude with a review of how wage employment or self-employment affect benefit eligibility and payment amount.

Register for this HVRP webcast (Complimentary)
HVRP (Homeless Veterans Reintegration Project) Technical Assistance Center is funded by grant #HV-16488-07-75-5-51with the US DOL.
---
Success Stories - Renee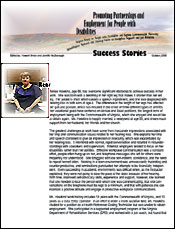 Promoting Partnerships & Employment for People with Disabilities - Success Stories
Renee, age 55, has overcome significant obstacles to achieve success in her work. She was born with a deformity in her right leg that makes it shorter than her left leg. Her palate is short which causes a speech impediment, and she was diagnosed with hearing loss in both ears at age four. Read this Success Story
This activity is funded by a grant with the Virginia Board for People with Disabilities and the VCU-RRTC
---
Look what's coming in 2009!
Announcing the Special Topic and Staff Development Series which will include information on the issues that are most important to you like customized employment, building positive business relations, developing self employment opportunities, serving individuals who are under served and best practices in transitioning students from school to work. Upcoming course descriptions and discounts for early registration details will be in the December e-newsletter.